German Champion in the IDM Supersport 300
What a crazy weekend in Hockenheim. After 2020, I was also able to secure the title in the IDM Supersport 300 in 2021. With this, I have successfully completed the mission "title defence".
I got on well with the track right from the start and managed to secure 3rd place on the grid in qualifying. So I started both races from the first row of the grid. After a crash by another rider, the first race had to be stopped. Fortunately, the race could be restarted after a short break. Because of the abandonment, the race was shortened to seven laps. So it was immediately full attack towards the top. In the last lap, I managed the decisive overtaking manoeuvre and crossed the finish line in first place. 25 important points went into my account and I extended my lead in the championship to 23 points before the last race.
In the second race, I positioned myself in the top ten so as not to take any unnecessary risks. Unfortunately, a technical defect and a resulting crash ended my race on the fifth lap. At that point, however, my team mate was already leading the race by 5 seconds, thus destroying any chance the competition had of winning the title. So despite the retirement in the second race, I was able to secure the championship title with a 10-point lead.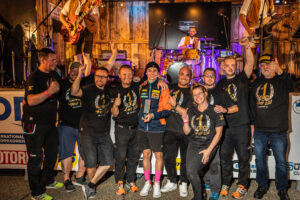 Many thanks to my team, my sponsors, partners and supporters for the great support in the 2021 season. Because, success is not possible without strong partners !!!!
Both races from Hockenheim can be watched again here.